I actually read the newspaper today, the first time for about a month, and guess what I found?
The article's about this minister, Abdul Hadi, who went to an NS training camp to look see look see.
Scroll to end of article for the reason this blog post even existed.
The Star > March 3, 2007 > Nation > PG 3 > D-G to check on safety and cleanliness of camps
By DHARMENDER SINGH


Yesterday, he paid a visit to the Geo Kosmo Training Camp in Kuala Kubu Baru.

Abdul Hadi, who spent about an hour talking to trainees at the Geo Kosmo Training Camp, said he was also using the visits to get the views of the trainees on the Wirajaya programme that has been a part of NS training since its introduction in 2004.

He said the Wirajaya programme was aimed at providing trainees with survival skills vital in the jungle like setting up their own camps, reading maps, preparing food and looking after their own safety.

He said the trainees were divided into groups and exposed to skills like path finding and map reading, cooking in the field, camouflage and safety.

However, he said, the trainees ate food from the NS camp and not the food that they cooked themselves.

He said the trainees also underwent the Stand-Two training, which required them to be on the alert during twilight hours before nightfall while other activities carried out included Hearing-Training at night and search-and-rescue training.

Geo Kosmo camp NS trainee Noor Adilah Abdullah Zaini, 18, said she was thoroughly enjoying the Wirajaya training.

"I can cope with it although it does get tough at times, but the fun is in roughing it out with all your new-found friends and having them go all out to help you through the obstacles regardless of racial or religious background," she said, adding that it would be an experience she would cherish forever.



Another trainee, Phay Yeong Shin, said she was used to the outdoors and the training under Wirajaya was different but no tougher than what she had already experienced in school.





She said she had been a scout in school and was used to it but found the experience of meeting people from various states exciting.
Does this remind our fellow scouts of someone?
Yes, people. That was Phay Yeang Shin. QM from C.O.H. of 2005/2006.
It's Y-E-A-N-G-S-H-I-N. Not YEONG SHIN.
Also, let's look at something I found from the online article and the printed version.
In the printed version, they say she was a Guide.
The online version says she was a SCOUT.
...
INCONSISTENCY, people!
Lemme get a pic of the printed version up here.
*takes phone and runs downstairs*
*ka-chick*
*sends via bluetooth*
I've never been so advanced in my entire life.
*chuckles*
Ok, it just slipped my mind that the quality of the photo would be real lousy. But I couldn't find the digi-cam so we'll have to make do with the 1.3 megapixel phone-cam.
Anyway, here it is.
It's on the blur side but you can make the word out.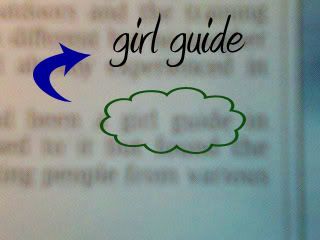 That's all.
---
Another thing from The Star...
Today's comics.
The Star > March 3, 2007 > Comics > Kee's World
Has Mister Kee been reading
THIS
??!?
An excerpt,

Just 1 week ago I smacked (with my slipper) one baby lizard to death while showering.

At first it was on the high corner of the bathroom, so I made sure I stood far enough, and sprayed it with damn hot water.

It fell to the ground, at the bottom corner... I turned on the water full blast, and kept spraying it till it was spinning around rapidly in an a miniature wave-pool.

After 10 minutes of malicious spraying, the lizard flopped on its back, apparently dead.
It's from
XiaXue's Lizard Serial Killer
post. Funny as hell.
You have been served!