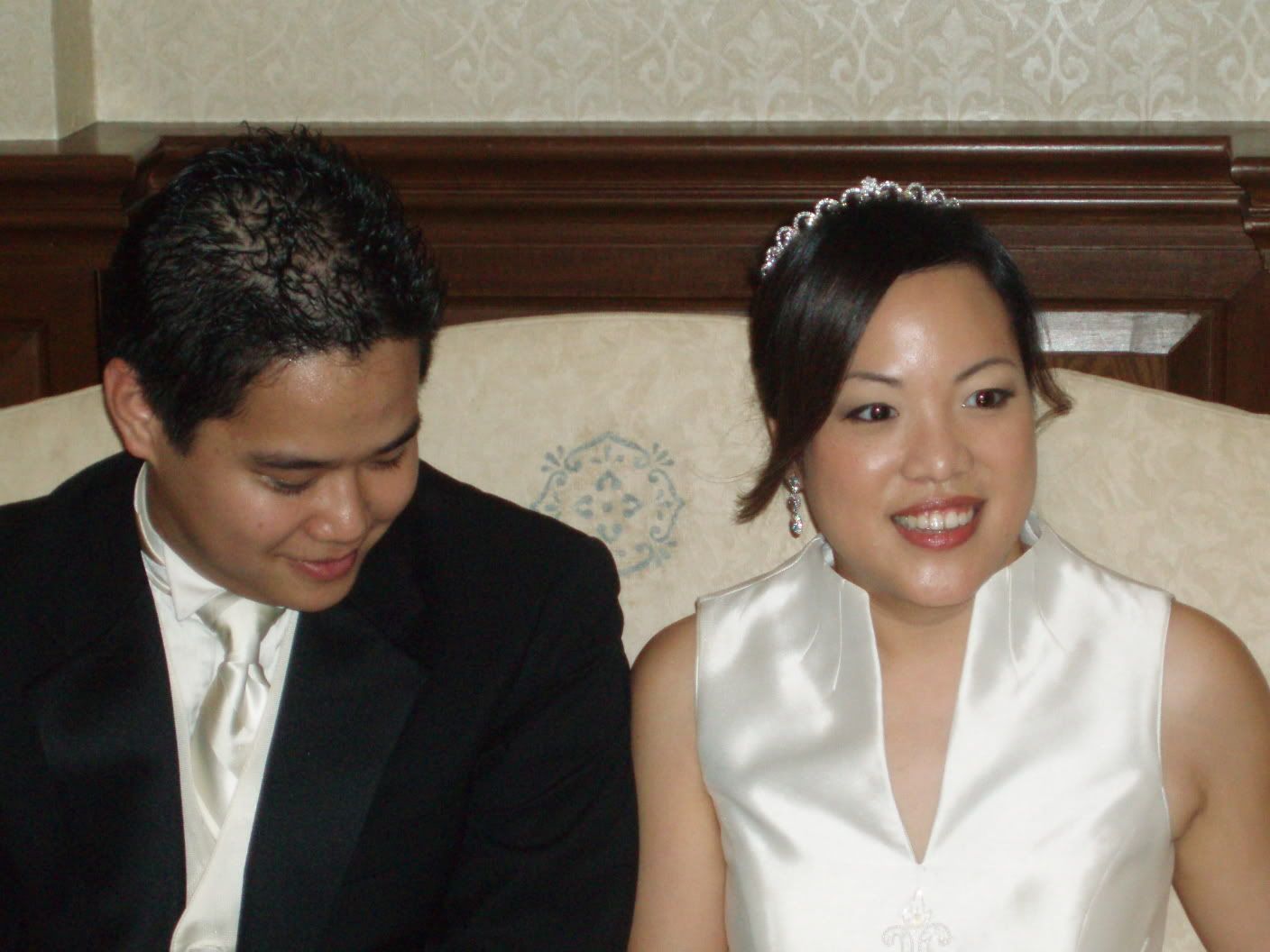 Same wife lar.
They got married in the US two years ago but only their immediate family members were there.
Now they're having the big thing lor.
Left home at 3pm. Tea ceremony starts at 3pm. So, like our track record shows, we're always late.
Got there at around 330pm. Then took photos. Yum cha liao, we waited until the service began.
This lil punk was there... So cute.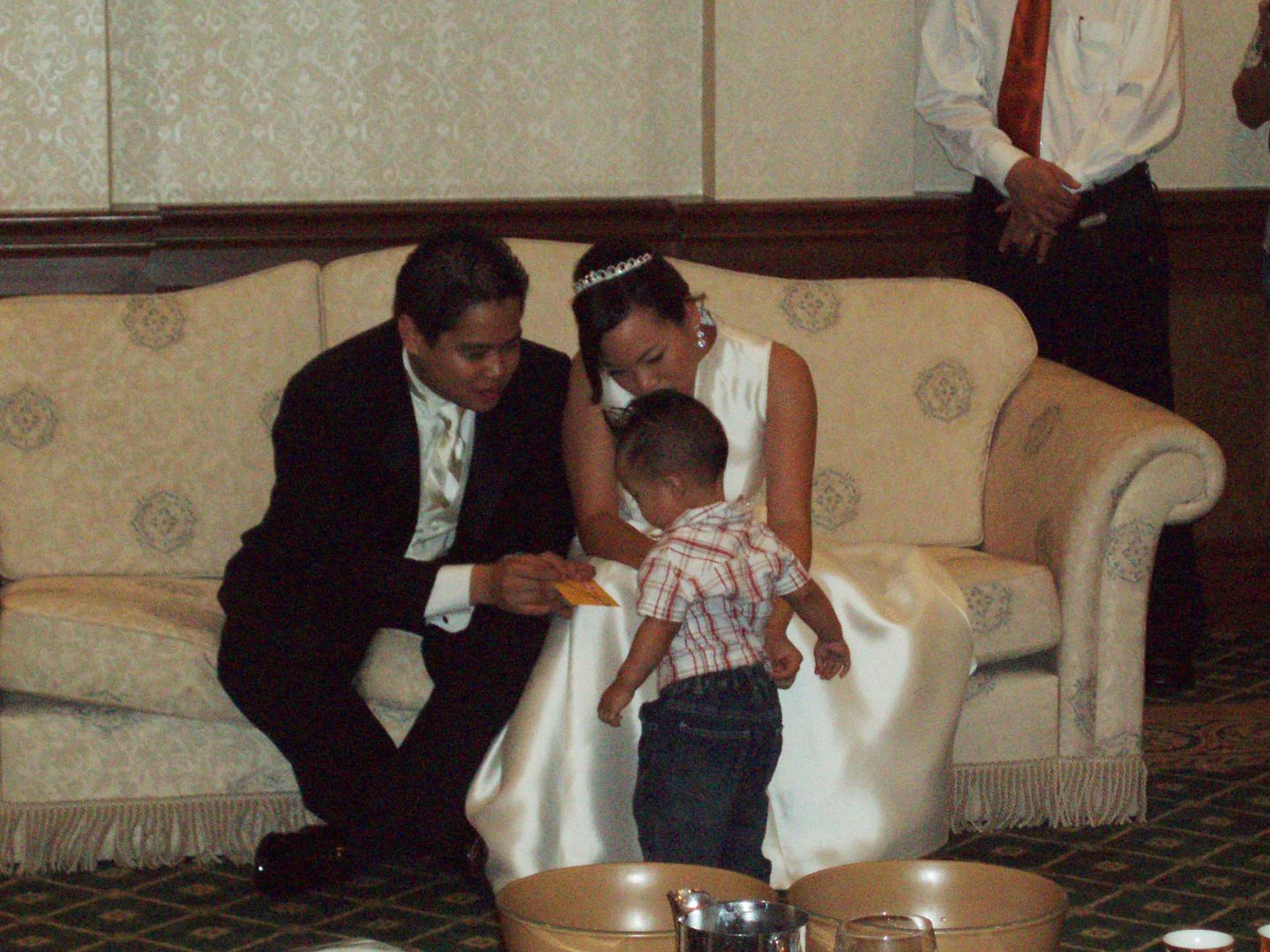 Forgot to mention, the whole wedding was in Cyberview Lodge in Cyberjaya. Very beautiful place.
Like i was saying, the service was in the garden.
*fast forward*
We're in the ballroom, dinner is served.
Very very delicious dinner. Costs Rm1200 a table, I heard.
Table 9 -- the table next to us, was the party animals' table.
Singing, dancing, screaming... all them.
They were my aunts and my mum.
Very vocal and funny bunch.
Attracted lotsa attention with their antics.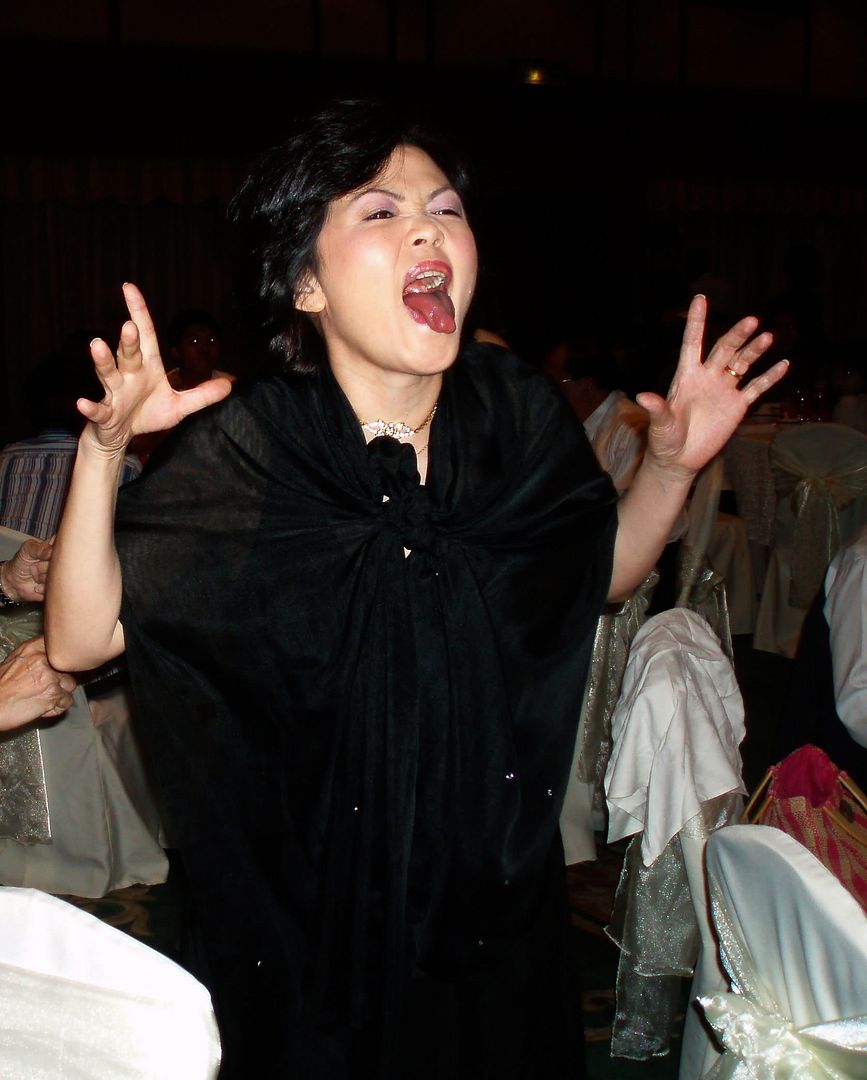 Aunt Jo, a wife, mother of 3, accountant, Daniel Lee fan, Treasurer of the Daniel Lee Fan Club.
Throughout the dinner, we were entertained by a group of musicians. Violinist and Cello-ist. Table 9 was definitely entertained. They sang to the music. Loudly. Did i mention they danced in front of, oh, I don't know, about 100 "well mannered" guests?
Behold the footage you're about to see. No other guests dancing. all quietly eating dinner. The kids of these women were like... "swt".
http://rapidshare.de/files/25368355/P7080025.MOV.html
You need Quicktime though.
So came the time when the married couple goes to each table and toasted.
First they did Sarah's side then Leigh's. *Sarah's the Wife. Leigh's my cuz.*
Table 9 was already preparing for Leigh and he knew it.
So after our table, the couple and their entourage skipped Table 9. Lol..
So my aunts and mum yelled: "Why are we waiting?!"
and something im forgetting right now. Kinda like,
"I want my little boy!" ???
They put on their lipsticks and got all hyped up.
Finally, its Table 9. My mum made a short speech and proceeded to kiss Leigh in the face. Then came my other aunts. All 4 of them. Ferocious women i tell you.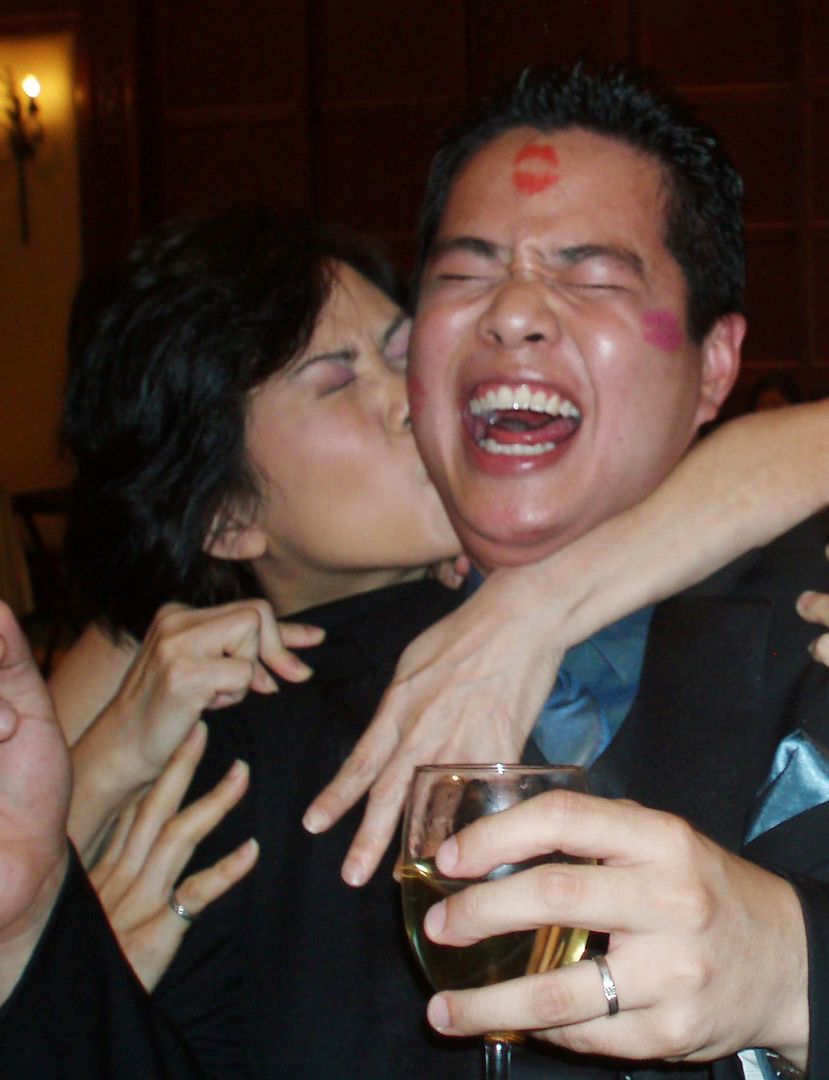 *emotional*
Leigh's very strong. He survived 28 years of the Ker family "tradition". He came out of it looking like this.
*end emotional* *sniff sniff* *laughs*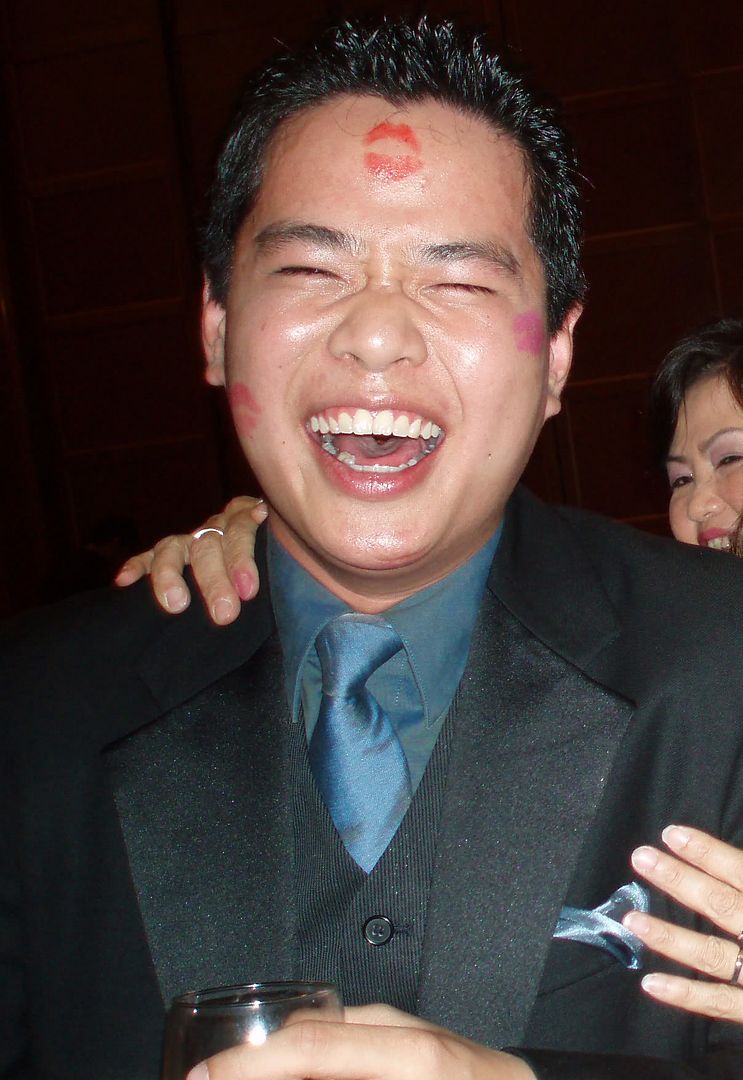 So after that, they made Sarah and Leigh kiss for as long as they yelled, "Yum sing".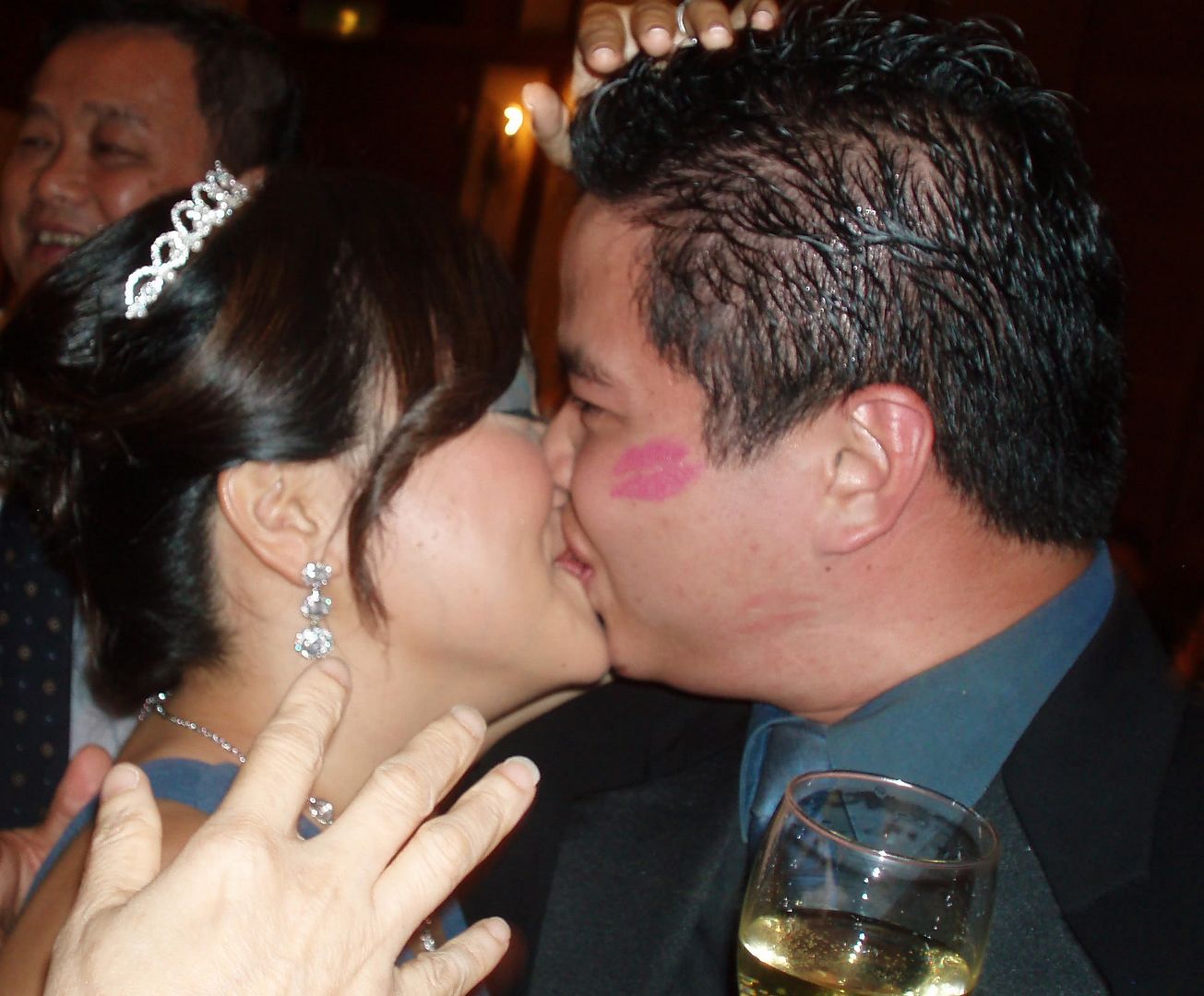 Unlike traditional wedding dinners, they had a dance.
http://rapidshare.de/files/25372996/P7080058.MOV.html
Need quicktime.
Ok we skip to my fav part.
Remember we (Miss Yea 1 & moi) mentioned about lil cousins having great time together and a possible crush that was going on?
So the two are *drum roll*
Si Mun *Lets assume thats the spelling for both of them* aka Princess aka Mei Nu (Pretty woman. In her case, pretty girl.)
She's a Daddy's girl. Her papa also very proud of her, always saying she would win the Miss Singapore/Universe. Either one.
Jen Ho
Son of mum's cousin. Was very cute when he was a baby/toddler. Now growing fatter yet cuter at the same time.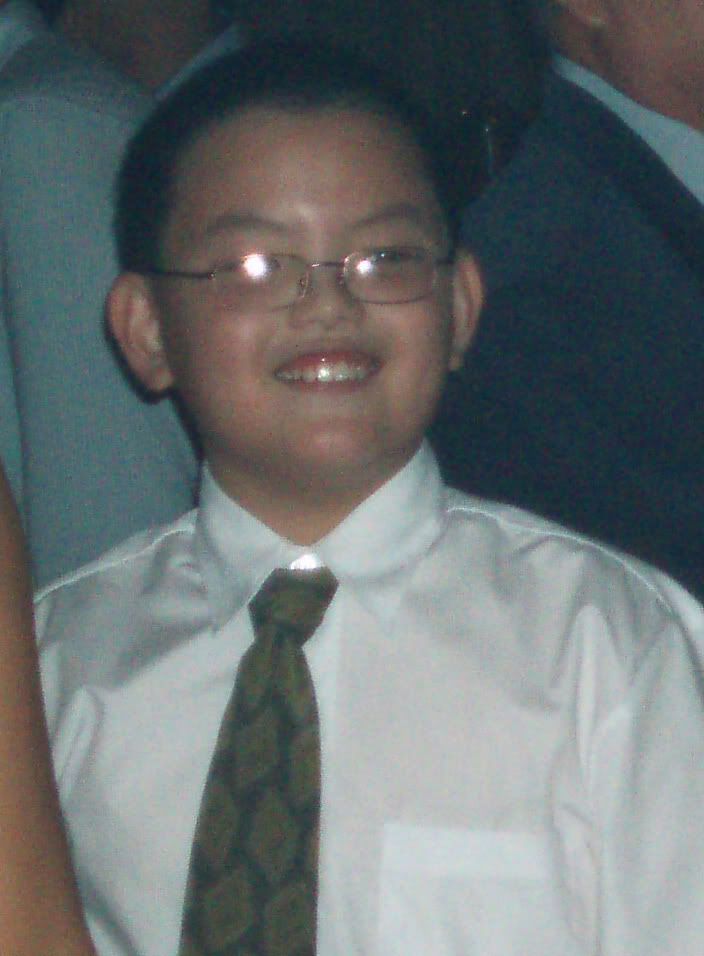 So, while we were waiting for the service in the afternoon, I notice him lurking around Si Mun. She was sitting with her mum doing this: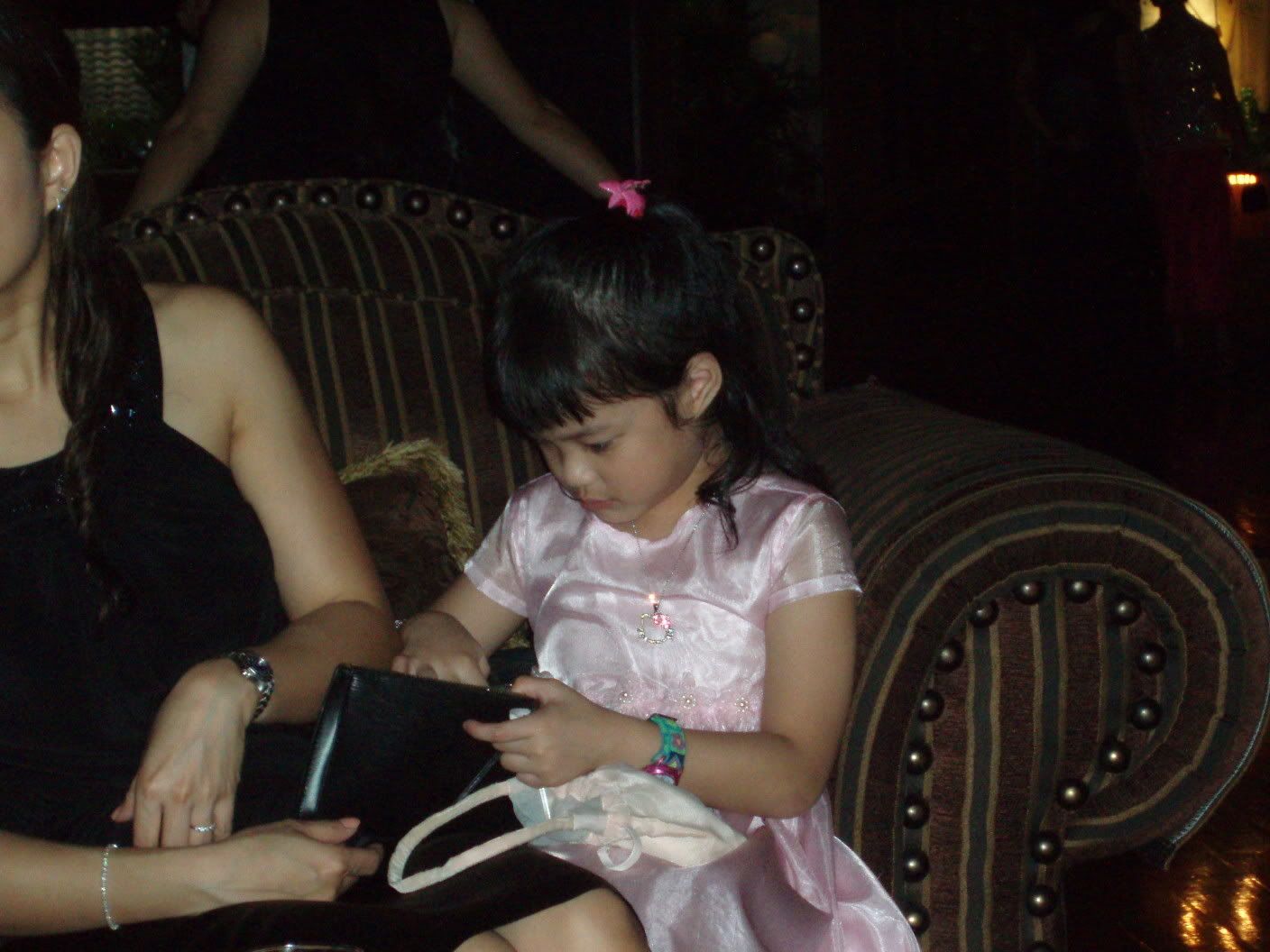 He was seen standing in front of the table, looking around at the ppl there. Then, perhaps noticed that he had to get an excuse, and proceeded to pick some tit bits from the bowl. Took 3 or 4 picks from the bowl, and decided to bail. Took the bowl with him too.
And then few hours later, in the ballroom, during dinner, when Leigh and Sarah was at table 9, Jen Ho was lurking around again. Not to say he was a desperado. He was sitting at Table 9, BUT! He was all the way on the other end. Opposite Si Mun. Bet he had a nice view eh?
That boy ar.. tsk tsk.. So young then love sick liao.