Straight to the point: I like The Veronicas.
Why: I don't know.
Could it be: Because they're twins, we can relate?
But: Their songs are really catchy.
What else: They're cute. Funny I guess.
Anymore: Lisa's dating Ryan Cabrera?
Can you differentiate them: Yes.
Anything interesting/funny about them: Well, I remember one very clearly. From a video I saw, Lisa, the younger twin said Jess was more bossy because, she's one minute older, one inch taller, one kilo lighter... *She thinks...* Jess cuts in and says, smarter. Oh what the heck, the video.
Windows Media Player
56k
100k
300k
Its 1/2way through I guess.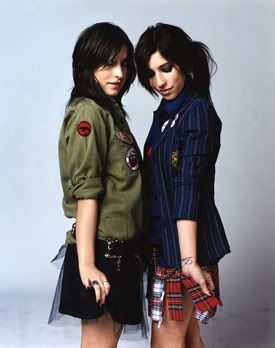 That is all. :)