Well, remember the Pepsi commercial I mentioned? Here it is.
Right click > Save target as, if you will.
http://www.freewebs.com/cheahwey/Pepsi_desire_120.zip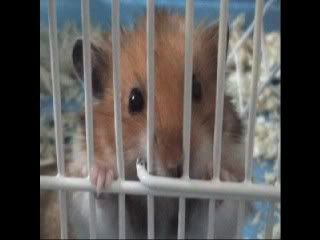 And for the finale, a video of me little GirlGirl chewing on the bars. :D
She really is a cutie... *sigh of happiness*
She looks like a little Teddy Bear (Another name for Syrian hamsters)! No wonder I always let her out whenever she chews on the bars. Too cute to resist. Damn, I spoil her too much.
http://www.freewebs.com/cheahwey/GirlGirl.wmv
(Save target as)
Well, I streamed it so you might not want to download it. But seriously, it'll eat away my bandwidth so it's better if you download. Kam Sia.
http://www.geocities.com/shocking_pink_88/index.html
*might I add, she SEEMS angelic here because I had the thing edited. If you watched the original footage it'll be a whole different story here buddy.*
*Gotta keep my baby's reputation as a sweet young thing going here.*
Haha, contradiction is a funny thing.