The fur ads you might see in magazines and commercials portray fur coats as a symbol of elegance. But these ads fail to show how the original owners of these coats met their gruesome deaths. Millions of fur-bearing animals including foxes, raccoons, minks, coyotes, bobcats, lynxes, opossums, nutria, beavers, muskrats, otters, and others are killed each year on fur farms by anal and vaginal electrocution and in the wild by drowning, trapping, or beating.
Ranch-raised foxes are kept in cages only 2.5 feet square (minks in cages 1-foot-by-3-feet), with up to four animals per cage.
Animals can languish in traps for days. Up to 1 out of every 4 trapped animals escapes by chewing off his or her own feet, only to die later from blood loss, fever, gangrene, or predation.

Every year, thousands of dogs, cats, raptors, and other so-called "trash" animals (including endangered species like the bald eagle) are crippled or killed by traps.
To kill the animals without damaging their fur, trappers usually strangle, beat, or stomp them to death. Animals on fur farms may be gassed, electrocuted, poisoned with strychnine, or have their necks snapped. These methods are not 100 percent effective and some animals "wake up" while being skinned.
Watch the video
Download the video (Save target as) 11.7MB This is the video I posted months before

Canada's Killing Fields:





Canada's Baby Seal Slaughter
Watch the video
Download the video (Save target as)4.23MB

FurIsDead.com:
furisdead.com
Chinese Fur Farms :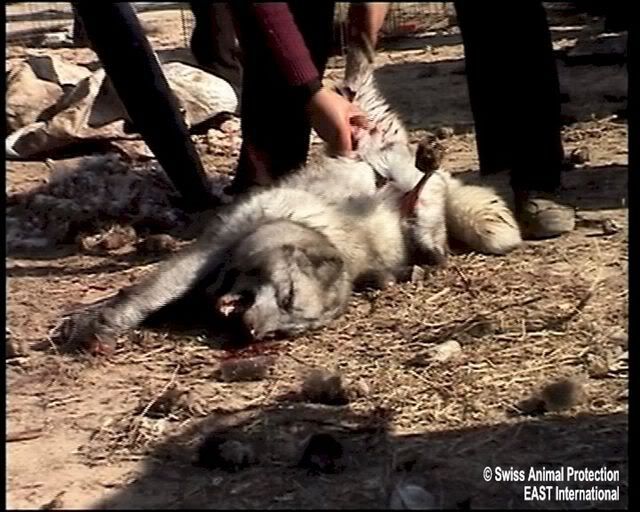 When undercover investigators made their way onto Chinese fur farms recently, they found that many animals are still alive and struggling desperately when workers flip them onto their backs or hang them up by their legs or tails to skin them.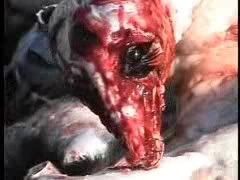 When the fur is finally peeled off over the animals' heads, their naked, bloody bodies are thrown onto a pile of those who have gone before them. Some are still alive, breathing in ragged gasps and blinking slowly. Some of the animals' hearts are still beating five to 10 minutes after they are skinned. One investigator recorded a skinned raccoon dog on the heap of carcasses who had enough strength to lift his bloodied head and stare into the camera.
Read more...