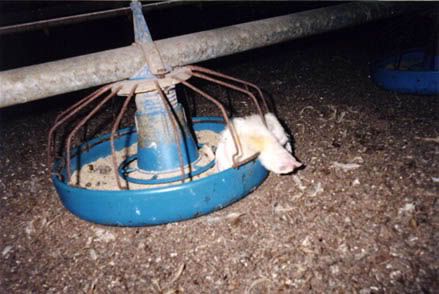 Chickens are probably the most abused animals on the face of the planet—they are treated in ways that would warrant felony cruelty-to-animals charges were they dogs, cats, or even cows or pigs. Because federal laws exempt chickens from the Animal Welfare and Humane Slaughter acts, sadistic and routine cruelty go unpunished, and it is up to companies like KFC to ensure that the chickens who end up in their buckets and boxes are not grossly abused. KFC has ignored this responsibility almost entirely, and its suppliers continue to abuse chickens—who are remarkable animals with distinct personalities, social orders, systems of communication, and intelligence as advanced as that of many other animals—in ways that would be illegal if dogs and cats were the victims.
Read the list of abuses
Author's note: Everyone read.
Find out about animal abuses and others through PETA:
People for the Ethical Treatment of Animals (
peta.org
)
Watch a narrated video by Pamela Anderson to see for yourself what chickens go through before they are battered and sold by the bucket.
Watch
(Stream)
Download...Save target as (7.66MB)
(No lagging) *Suggested*